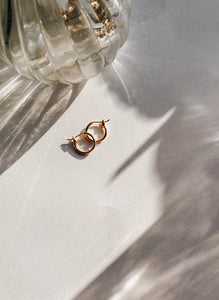 14K gold-filled mink hoop earrings - dainty, sleek, and minimal. Perfect for everyday wear.
Gold-fill pieces have a thick layer of 14K gold that is heat and pressure bonded to a high quality brass core. When we'll taken care of, gold fill will last a lifetime, with no tarnishing and a brilliant finish. Timeless and minimal. 

Measures 14mm
Gold-fill jewelry can last a lifetime when properly cared for. Avoid wearing pieces in water and getting makeup or hair products on them.